Waterlines - April- 2015
In this edition:
Dear friends,
Urban Boatbuilders has had a wonderful beginning to 2015. In early February, we opened our doors to the community for the Grand Opening of our new workshop and I was humbled by the number of our supporters who came out to celebrate the collective effort that made the new space possible. Everyone's enthusiasm and excitement for the work we are doing to benefit Twin Cities youth was truly extraordinary and inspiring.

Our Apprenticeship Program is going full steam - with 18 Apprentices steam bending wood, lashing frames, carving paddles and learning new things each and every day. Urban Boatbuilders instructors are engaging students in building projects at nine schools across the Twin Cities this spring. More youth than ever are benefiting from Urban Boatbuilders' unique youth development programs thanks to the support and talents of so many people.
The power of our program has been made vividly clear as we have watched young people grow into confident young adults and leaders. Maila, an Apprentice in 2011, has been a fabulous addition to our staff as a boatbuilding instructor. Andrew and Mathias, who recently graduated from their Apprenticeships, are completing another six months as youth instructors. All three will guide newer Apprentices as they develop their own skills and leadership abilities.
These great successes are possible because of your support. We can't wait to see what the rest of 2015 holds. Together, we are building bright futures for Twin Cities youth!

Warmly,

Marc Hosmer
On a recently chilly Wednesday evening in January, Urban Boatbuilders volunteers piled in the workshop. But instead of typical building activity, the task board on Wednesday remained empty and the power tools left quiet as instead, volunteers gathered around tables to enjoy tasty food and drinks and each other's company during Volunteer Recognition Night. This particular night was significant, because just two months' prior, the new workshop was a mere skeleton compared to the one that the volunteers were currently enjoying.
While Urban Boatbuilders received a lot of assistance from professionals in various fields to get our new workshop running, a significant contribution came from our dedicated volunteers. Over the course of two months, 35 volunteers lent 450 hours of their time to get our workshop to its current high-functioning state. Open Shop Wednesday volunteers took a pause from assisting boat projects to help with tasks such as installing our plywood workshop floor, so Apprentices and volunteers can work on top of a more comfortable surface to housekeeping tasks like ensuring our telephone wire could connect between two ends of the shop. We also hosted volunteers on Shop Buildout Saturdays to do longer-term projects such as painting, furniture assembly, shop arrangement and plenty more.
Some of our volunteers contributed massive efforts during our shop buildout process. Al Raymond was instrumental in his advising throughout all of the move-in. Whether orchestrating coordination between electricians, contractors and construction workers to ensure all elements and needs were accounted for, to providing hours upon hours of manual labor installing key pieces, Al was everywhere in the new shop. Collette King dedicated many hours to creating a sophisticated strategy for tool storage, ensuring that any needed tool is easily and safely accessible. Mike Baudino and Carl Fristad created the design for our workbenches, ensuring ample and effective space for work projects.
So, the enjoyment is palpable in the space during the Volunteer Night because of the efforts our volunteers provided and the successes they deserved. Volunteers munched from tasty fajitas provided by T & S Catering and sipped on donated Lake Monster beer, a local brewery with a new move coming soon as well. The coveted Volunteer of the Year for 2014 (and awesome trophy hammer) was awarded to Mike Baudino for both his space buildout work and spearheading our mill crew for boat materials. But all could take comfort in knowing the immense value of their work. Thanks so much to all of our volunteers as your contributions help make our work possible!
If you are interested in getting involved with volunteering at Urban Boatbuilders, please contact Harry Kent at harry@urbanboatbuilders.org or stop by our Wednesday night Open Shop from 6:30-9:30
It's Urban Boatbuilders' 20th Annivesary!
By Sam Hartzell
Urban Boatbuilders was founded in 1995, making 2015 our 20th Anniversary! To mark the occasion, I called up Urban Boatbuilders' co-founder Dave Gagne to talk about the early history of the organization.
Dave Gagne has been involved with Urban Boatbuilders since before the founding. He quickly recalled a 1995 meeting held in co-founder Mike Temali's backyard in which the assembled group of ten or twelve, including co-founders Seitu Jones and David Christofferson, began talking about the possibility of teaching boatbuilding skills to adults. This early germ of the idea for Urban Boatbuilders was inspired, Dave told me, by a growing interest in wood boatbuilding that was sweeping both coasts. "There were a lot of people in that area who had an interest in boatbuilding, and there was a strong tradition of canoes. We thought we could offer a cooperative building space, gather some tools, maybe even have some instructors offer some classes. The North House Folk School didn't exist yet, but there were projects going on, I think up in Grand Marais. There was this kind of general interest in building wood boats."
The name Urban Boatbuilders appeared early on, Dave told me, although the exact moment escaped his memory twenty years later. When it became clear that the new organization was not going to attract enough adults, the change of focus to teaching youth came naturally. "All of us were people involved in organizing, or community development, or economic development, or housing, and we all knew that in our neighborhoods and in our schools there were a lot of issues with at-risk youth. That was really the birth of Urban Boatbuilders." Brad Buxton became the fledgling organization's Executive Director, working half-time and teaching classes.

From the very first program with Boys Totem Town residential correctional program - which began a partnership that has continued to the present day - Urban Boatbuilders began reaching out to area high schools and learning centers to offer hands-on learning to middle school and high school students. Dave stressed the value of this form of learning for students who might not do their best in the traditional classroom setting, and he described how early boatbuilding classes with younger children presented challenges that directed Urban Boatbuilders' focus towards teenagers.

When I asked Dave about the origins of the current Apprenticeship Program and how it was that Urban Boatbuilders came to design that program as an educational workplace, he told me that this shift really came from Phil Winger (who has been a boatbuilding instructor with Urban Boatbuilders for over 15 years) and then-Executive Director Ted Schneider in 2000 or 2001. "We had always thought: wouldn't it be great if a youth who had been involved in a boatbuilding project could come back and work for us. Then Ted and Phil hatched this plot of what if we set up an apprentice program where once a youth has gone through a boatbuilding program and we kind of know them a little bit and can make a judgement whether this would work for them or not, we could have them come to us on a paid basis after school. So we would have boatbuilding projects with partners, and we would have the apprentice program." The Apprenticeship Program began with one or two Apprentices and grew from there. Today, the Apprenticeship Progam supports 36 teenagers every year, a growth that Dave says would have been impossible in the old workshop on Pascal Street.
Dave himself served on Urban Boatbuilders board of directors for many years, and as Executive Director for three, retiring in 2010. Looking back at the history of the organization and hearing Dave talking about so many people who had been critical throughout that time, many of whom remain involved today in a myriad of ways, I was struck by the powerful connections and community that have grown up with Urban Boatbuilders. I asked Dave why he thought so many people have been involved for so long. He spoke to the importance of volunteers to the organization, and the many ways that people can involve themselves in the organization and have a real impact. "When I left the board, I would not let go of Urban Boatbuilders. It's just part of the heart of those of us who have worked on it, and because we all feel like we have contributed to it and continue to contribute to the organization's health and longevity."
And of course: "There's something about boatbuilding that captures all of our imaginations, and I think that's also true for the youth. You could just feel their excitement as they started learning skills they never thought they could, and we kept telling them that 90% of adults won't have the slightest idea how to do what you know how to do now. It just grabs the imagination."
For all the growth and changes that have taken place these last 20 years, the passion of the Urban Boatbuilders community for building youth one boat at a time is as strong as ever. And we all see that excitement and enthusiasm in the Apprentices and students every day.
Apprentice Spotlight: Joseph
Urban Boatbuilders' Apprenticeship Program engages 18 youth ages 16 – 19 in paid employment training. Each youth brings their own story, challenges to overcome, and opportunity to grow and thrive. We asked one of our Apprentices, Joseph, about his experience in the program:
How did you learn about Urban Boatbuilders?
I heard about it from a friend, who had learned about it from Angela and Phil.
What made you excited about working at Urban Boatbuilders?
I wanted to work with my hands and do stuff.
What were you hoping to get out of being an Apprentice?
I was hoping to get to know how to build a canoe.

What have you learned from being an Apprentice?
I've learned working skills and how to work as a team. And I built a paddle. I had the pattern, and got to carve it out.
What do you want to do in the future?
I want to go into auto-mechanics. Working in the shop here and learning how to be around other people will help. I worked in tree service, and worked with a chainsaw before. I like working with machines.
What has been your proudest moment as an apprentice?
When I finally finished my paddle. I felt pretty good inside. And from that I get to see the mistakes that I've done so that I can fix them in the future.
What is your favorite tool in the shop?
I've worked with the drill, but I like working with the band saw the best. I cut out the paddle shape with it.
Are there any fun facts about yourself that you'd like to share?
I'm always smiling. I'm a happy person.
Hats & Mittens Winter Ball is a Huge Success for UBB!
On Tuesday, December 30, 2014 Urban Boatbuilders staff and board members joined Hats & Mittens to celebrate their annual Winter Ball at the Radisson Blu Mall of America. The annual Hats & Mittens Winter Ball has been collecting hats and mittens for families in need and raising money for youth serving nonprofits for almost 20 years. Each year the Hats & Mittens Board of Directors selects one youth serving organization to receive proceeds from the Ball. Urban Boatbuilders was the 2014 recipient.
The event featured diner, dancing, a live and silent auction and other winter fun. Urban Boatbuilders auctioned off one of our hand-built canoes along with custom made paddles in the silent auction and the live auction featured a beautiful electric lapstrake style boat, hand-built by youth in one of Urban Boatbuilders' partnership projects.
After all the proceeds from the Ball where totaled, Hats & Mittens founder, Rebecca Jorgenson Sundquist, attended Urban Boatbuilders' February open house and presented us with a check for $42,000. The Urban Boatbuilders Board of Directors and staff extend a huge thank you to Hats & Mittens and all the Winter Ball attendees for their generosity.
Grand Opening Retrospective
By Sam Hartzell
Urban Boatbuilders celebrated the Grand Opening of our new workshop on Sunday, February 8! The event was a huge success, and hundreds of people came out to see the new space and celebrate the contributions and efforts that so many had made to make the new workshop a reality.
Moving to a new home was a momentous change for Urban Boatbuilders. After spending close on 20 years in our old workshop, having the room to grow our programs and display all our boats in one location was a big and much needed improvement. Urban Boatbuilders' friends and supporters made this move possible, in a myriad of ways, and the Grand Opening Celebration celebrated what we have achieved together: a new workshop where young people can safely and comfortably learn and grow.
Over 250 people came to the Grand Opening Celebration. A crowd that size could not have fit into the old workshop, and the new one, four times larger, was packed. With food and drink, deserts provided by Francesca's Catering & Bakery, and a hopping social media station that asked visitors to think of one word to describe how Urban Boatbuilders builds youth, there was a lot to do and a ton of positive energy and excitement.
Urban Boatbuilders was well represented, with our Apprentice Malik wandering the crowd taking photos, other Apprentices guiding visitors through the boat lashing process used to tie canoe frames together, and volunteers and staff welcoming everyone. Our Executive Director Marc Hosmer hardly had time to pause as so many people came up to shake his hand and remark on Urban Boatbuilders' wonderful new home.
Finally, Marc called everyone to assemble and offered a short speech thanking the many people who had made the move possible and offered their time and talent and expressing his pride and humility in being a part of an organization with so much support. Our Apprentice Malik then came forward, and gave a wonderful speech to the audience of over two hundred people. Malik talked about his pride in building his first canoe at the Minnesota State Fair, and about the dramatic difference between the old workshop and the new workshop. Seeing this young man deliver such a confident and comfortable speech was very rewarding to all of us who have watched his progress since he first joined Urban Boatbuilders back in August of 2014.
Door prizes were raffled off, with lucky winners taking home T-shirts, an Urban Boatbuilders apron, and even an Apprentice-made paddle.
As the evening wound down and the crowds trickled out, our Apprentice, staff and volunteers were all glad for a chance to catch their breath. The Grand Opening Celebration was a bigger success than anyone had expected, and we were all blown away by the enthusiasm and excitement of our friends and supporters. As Urban Boatbuilders continues to provide valuable opportunities for youth to learn and develop into confident young adults, we know that we're all in it together, and we are going to accomplish great things.
Thanks to everyone who came out to the event and celebrated with Urban Boatbuilders!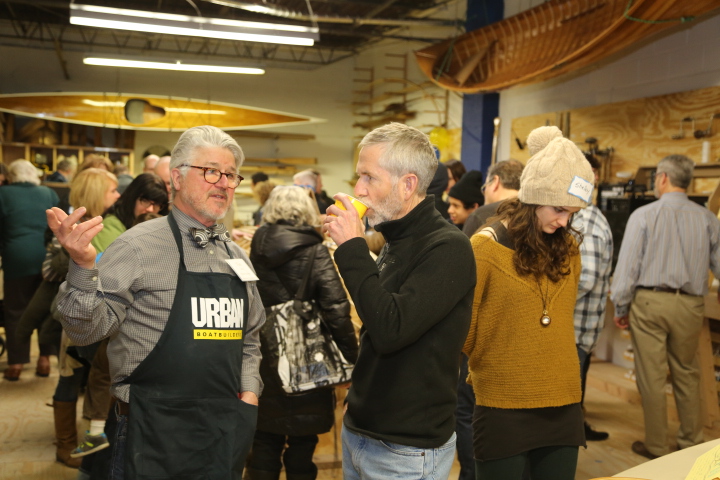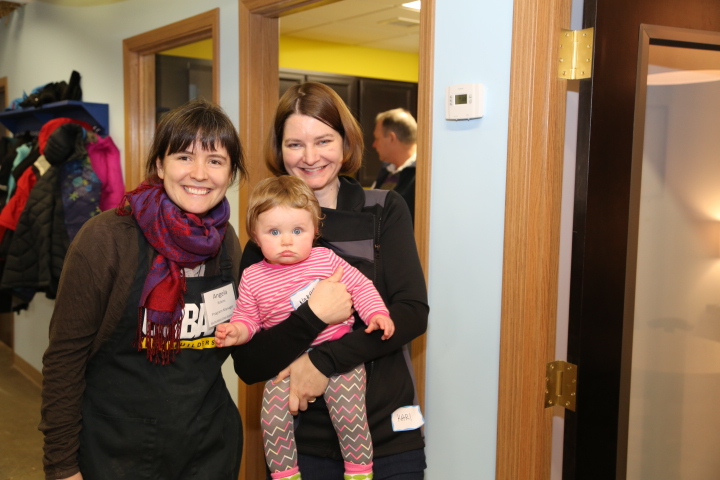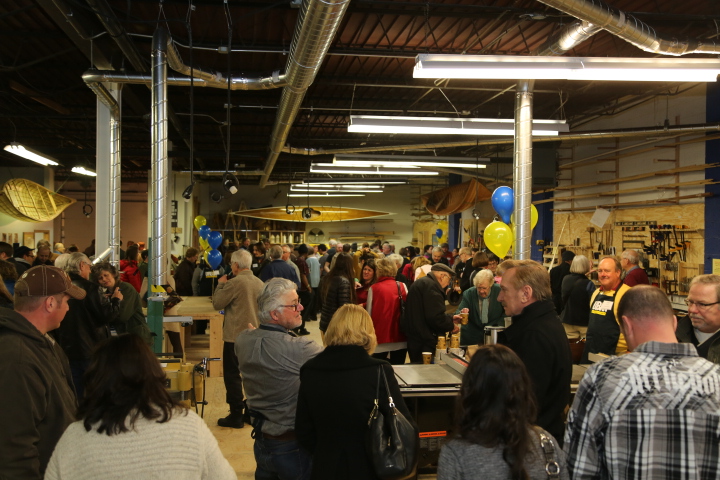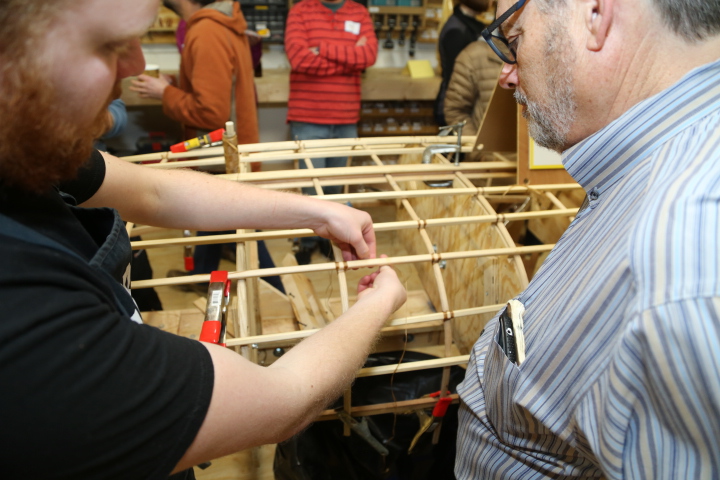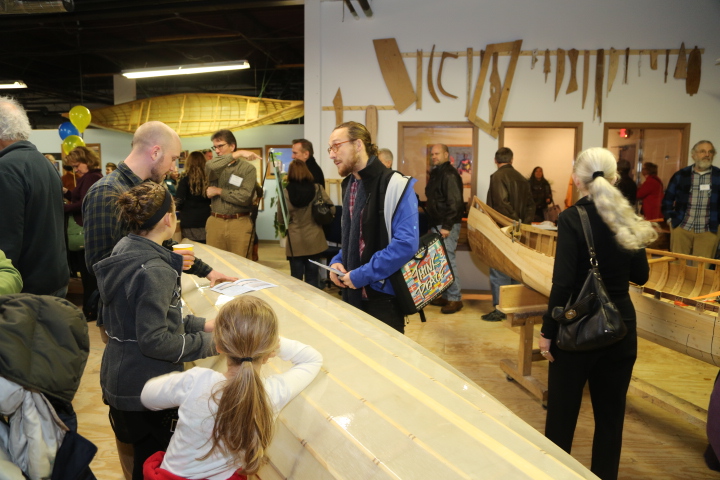 Partnership Project Update: Parkway Montessori Middle School
Michael is Urban Boatbuilders' newest Boatbuilding Instructor. He recently began teaching a boatbuilding class for middle schoolers at their school.

Parkway Montessori teacher Kent Miller said this about the value of the program to the students: "Students that are normally not engaged in traditional academics are drawn in by the challenge, skill, and persistence that is needed to successfully work on a boat. Their engagement level is much higher in boat class than other subject areas."

The students' own photo-blog of the project can be found HERE.

My name is Michael Wurth and I'm a boatbuilding instructor at Urban Boatbuilders. My project is a School Partnership Project with Parkway Montessori Middle School, in East St. Paul on 7th Street, working with 12 middle schoolers and an art teacher. We're building a 17 foot Wilderness Traveler canoe, Urban Boatbuilders' standard boat. This is week four of the process, and we have until May 1st. It will take about 70 hours total.

Everything is going really well. I was a little nervous at first to be working with middle schoolers, since I don't have a lot of youth development work experience with that age range, but I've grown to love it. They are super high energy. I have them for about an hour and a half a day, and there really aren't any problems with them focusing for that long. So it's a perfect amount of time, and a really fun age group. I have a good mix of boys and girls, and you can definitely see skills in each and every one of them. For instance, today we were lashing the decks and the goosenecks that go on the ends of the boats. One of the guys was trying to lash the pattern, and he admitted that geometry wasn't his strongest skill, so he had some challenges with it. Then one of the girls, Venus, she came over and she helped him with it. And by the end both lashings were done excellently.

The students have a million questions. It's a little hard for them to conceptualize that they're building the boat upside down for the most part, since canoe frames are built upside down on the mold. They also don't separate what we're putting onto the boat, so the ribs and the stringers and the keel, versus the mold itself. So it's been a lot of questions of what parts are staying, what parts are going, what parts are we adding. But it's been fun. It's also helped me learn, by explaining every part of the boat and its purpose.
I have learned that I love working with that age group, and I've also learned to communicate better with my coworkers. We teach the Apprenticeship in the workshop Monday through Wednesday, and oftentimes our questions revolve around what we're doing in the shop. But I have learned to ask Phil, our most experienced boatbuilding instructor, for advice or for input on things that are offsite as well. That can be about techniques for working with students, or describing a certain part of the boat, or actually building the boat. And I think that working independently with my own little mini-crew of students has taught me about my managing style and what I like and what I don't like.

We're looking forward to pulling it off, and the students can't wait to see the boat float!
Mark Your Calendars! Urban Boatbuilders Events
July 29 – Boat Launch
Come and see our Apprentices and summer program participants launch newly built canoes at the pavilion at Lake Como and celebrate their achievements! More details to come.

April 10-12 – American Craft Council St. Paul Show
Visit Urban Boatbuilders at the 2015 ACC Show at the Saint Paul RiverCentre! We will be showing our craft in the show's "Let's Make" space, along with five other arts organizations. More information HERE.
Donate today
Your donation will help to ensure that Urban Boatbuilders is able to build more young lives.
Donations are tax-deductible to the full extent allowable by law.